Sitcom Essentials is without a doubt one of Hollywood's most exhilarating Comedy Acting Courses. This innovative ten-week intensive is a potent combination of craft and career guidance, industry insight and discovery. ACS Founders Gunnar Todd Rohrbacher and Lauren Marie Bertoni teach Sitcom Essentials along with several special Guest Instructors; Senior Agent Sarabeth Schedeen (BRS/Gage), Groundlings Instructor Phyllis Katz and award winning actress and activist Elaine Hendrix. 
About the Class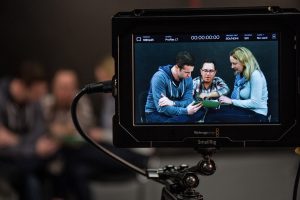 Ten Weeks, Five Experts, Infinite Results
Sitcom Essentials evenly balances lecture and performance throughout ten weeks. It's different from the other classes offered at Actors Comedy Studio in that Sitcom Essentials provides a broader perspective and overview of a career in TV comedy. We examine every perspective of a working actor's life. The curriculum covers character archetypes, personal branding, script analysis, the differences between single-cam and multi-cam comedies and much more. The course culminates in a three-camera shoot live in front of an audience, complete with joke and lines changes from professional writers.
Our generous, knowledgeable guest teachers answer all questions about how the industry functions with decades of combined experience and perspective. Sitcoms are everywhere now; Network, Cable, Premium Channels, Netflix, Hulu, Amazon, Youtube, etc. Make sure you're prepared to book that work!
What you'll learn at a glance:
➥  Who you are in the marketplace and how to pitch yourself
➥  The work week of a Sitcom actor
➥  How to have a successful relationship with your representation
➥  What it's like to test with Networks and Studios
➥  How to incorporate newly written dialogue and jokes on the fly
Days & Times
Tuesday nights from 7 – 10 pm for ten consecutive weeks.
Tuesday, September 11 through November 13
Week by Week
Week 1 – The Heroes & Heroines of Comedy
With Gunnar 
Gunnar will discuss Comedic Archetypes & Character Development for TV & Film. This week includes typing exercises which will help you accurately brand yourself in today's competitive marketplace.
Week 2 – Sitcom Script Analysis pt. I
With Lauren
Lauren will introduce the class to ACS's exclusive iCAMERA method of breaking down a script for immediate success. Understand the script, comedy and characters the way the writers intended.
Week 3 – Sitcom Script Analysis pt. II
With Lauren
You'll go even further into understanding what's in the text. Students will learn to develop substantial relationships to other characters, memories, locations and objects in an instant. Deeper examination into core family dynamics and dysfunction.
Week 4 – Multi-camera vs. Single Camera Audition Technique 
With Gunnar and Lauren
There is a difference between auditioning for single & multi-camera comedies. We can explain it clearly and help you practice the extremely important distinction. You will be assigned your scene and partner for live multi-camera shoot night.
Week 5 – Staying Spontaneous with the Script
With Phyllis 
That was a lot of information in the first three weeks, now lets PLAY! Phyllis will work with students on their assigned scenes and translate the homework taught in prior weeks into fun, energetic performances.
Week 6 – Table Read, Rehearsal, Direction & Camera Blocking
With Gunnar
Your scene preparation will be put to the test this week. We will conduct a table read for all the scenes, give final performance notes and block them for a three-camera shoot the following week, live in front of an audience!
Week 7 – Shoot Night, Live in Front of an Audience!
With Gunnar, Lauren, Crew and Audience
Your performance night with a three-camera shoot, live in front of an audience!
Many of our past students use clips for their reel footage!
Week 8 – Studio & Network Night
With Gunnar and Elaine
Students will chemistry read with working actor Elaine Hendrix (Sex&Drugs&Rock&Roll, Romy & Michele's High School Reunion, Parent Trap, etc.) Elaine will discuss pilot auditions and working directly with the Studios and Networks. She will cover everything from contract negotiations and deal memos to work sessions and collaborating with writers, producers and Network Executives at the Series Regular level. Invaluable information available nowhere else!
Week 9 – Working with Your Representation
With Gunnar & Sarabeth
Spend three hours with one of LA's top agents, Sarabeth Schedeen (BRS/Gage) learning the ins and outs of the greatest, most challenging business in the world. Now that you're in Hollywood with your headshots and resumes, how do you keep from psychologically "going under"? Sarabeth shares the tips, secrets, life lessons, psychology and the philosophies that have made her a working success for 30+ years in the business of "show."
Week 10 – It's a Wrap!
With Gunnar and Lauren
The course will conclude with a review of all previous weeks, including interactive exercises that will reinforce everything learned throughout the course. Then we conclude with a screening of the edited scenes from week seven! Refreshments and snacks will be provided as we view the scenes together on our 8 ft. projection screen.

Instructors

Enroll
$1,195 for ten weeks
Reserve your spot in class with half payment of $597.50
The second payment of $597.50 is due the first day of class.
FAQ's
Is there a prerequisite for this class?
No. Sitcom Essentials is open to anyone who wants a thorough overview of a career in TV comedy. Newer actors and experienced actors benefit equally on different levels from experiencing this course.
What is the class size?
Class is limited to a maximum of 12 students.
What if I miss a class?
Sitcom Essentials does not offer make up classes.
Can I check out the class before signing up?
In order to maintain class integrity, we do not allow auditing. If you would like to meet with one of our instructors for a brief, in-person meeting to ask questions and see our studio in person, you can email us at info@actorscomedystduio.com.
Do you offer payment plans?
You can place a deposit of 50% to hold your spot in class at any time, but full payment is required before beginning. Your spot in the course is not secure until full payment is received.
I have zero experience. Will I be okay?
Yes! Our program is built to accommodate actors learning from scratch and experienced actors who want our specialized training in television comedy.
Where can I park?
Actors Comedy Studio is conveniently located in the heart of Los Angeles. Metered parking is available on Beverly Blvd. and additional plentiful parking is available in the safe and well-lit surrounding neighborhood.
We're within walking distance of The Grove, Pan Pacific Park, CBS Studios, Erewhon Natural Foods Market, The U.S. Post Office, Urban Pet, Blick Art Supplies and a multitude of restaurants like Shaky Alibi, Terroni, Milk and El Coyote.
Because Actors Comedy Studio is also a social place, it was important for us to find a location that enables our students, faculty and friends to gather and network before and after class.
Beverly Blvd.
2 hour Metered Parking until 8 pm. After 8 pm, you can remain parked at metered spaces throughout the evening.
Vista and Gardner (Side Streets)
2 hour parking until 6 pm. Permit parking only thereafter.
Oakwood (1 block north of Beverly Blvd.)
Some sections are available except for 2 hour street cleaning restrictions during the day. Some sections are 2 hour parking only during the day and permit parking only after 6pm.
Rosewood (2 blocks north of Beverly Blvd.)
Some sections are available except for 2 hour street cleaning restrictions during the day. Some sections are 2 hour parking only during the day and permit parking only after 6pm.
There is no actor parking available in the lot behind the building.
How do I sign up for a course?
For Sitcom Essentials, you can hold your spot at any time by paying a 50% deposit. You can register online with a credit or debit card or pay in person with credit card, debit card, cash, or check.
How often does Sitcom Essentials meet?
Once a week for ten consecutive weeks.
I still have questions, is there someone I can talk to?
Yes! You can email info@actorscomedystudio.com or call us at 323-302-9152.